Unattended installations make it easy to keep Cortana quiet. Simply add following registry tweak to Unattend.xml right before the tag </RunSynchronous>:
<RunSynchronousCommand wcm:action="add">
 <Description>disable driver update</Description>
 <Order>5</Order>
 <Path>reg add HKLM\SOFTWARE\Microsoft\Windows\CurrentVersion\OOBE /v DisableVoice /d 1 /t REG_DWORD /f</Path>
</RunSynchronousCommand>

Note: You may need to adjust <Order>5</Order> value to match your unattend.xml
Sounds simple enough. However, Johan Arwidmark mentioned on Twitter a cooler way of setting the registry value. Personally, I like his approach better because - at least when applied to Microsoft Deployment Toolkit - it saves me the necessity to apply changes to each unattend.xml in my deployment shares. Grab his script from GitHub and add it to your Post-Install phase: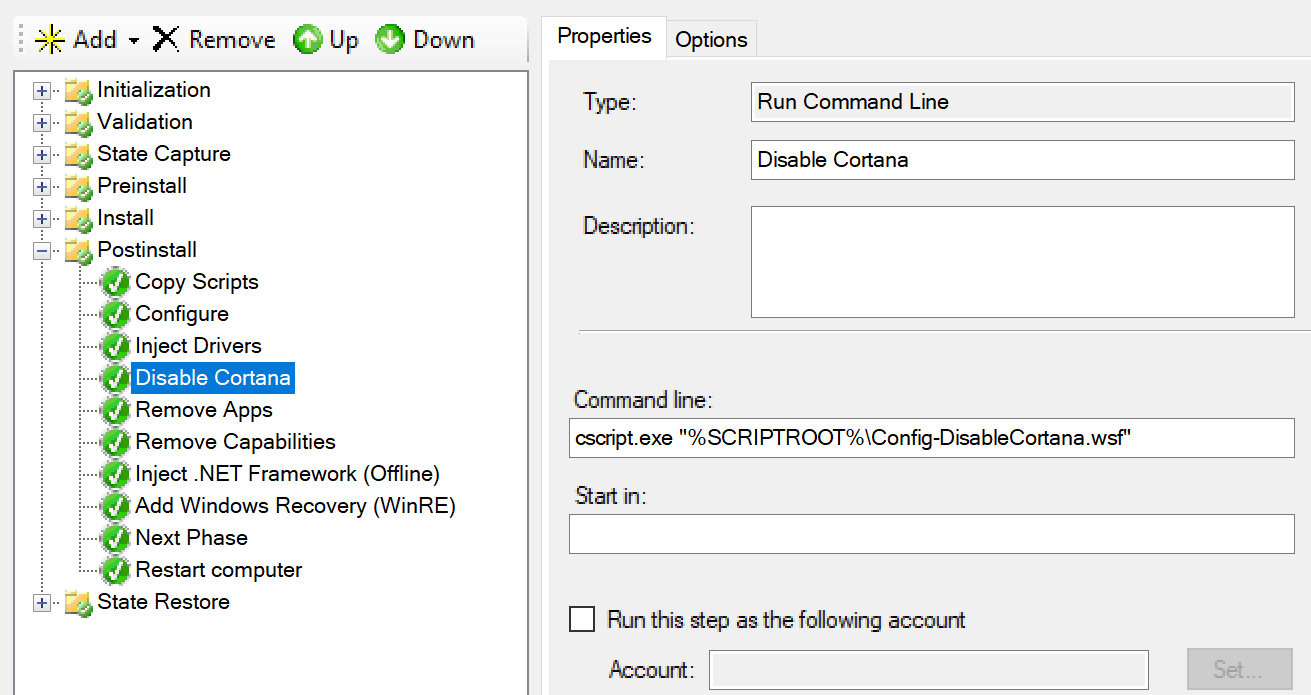 Be aware that according to Microsoft documentation shipping a device with Cortana voice support disabled is an unsupported configuration. From my point of view, this bit applies only to OEMs. However, should you wish to restore the default behavior, add a PowerShell script towards the end of your task sequence. Something along these lines should do the trick:
Remove-ItemProperty -Path "HKLM:\SOFTWARE\Microsoft\Windows\CurrentVersion\OOBE" -Name "DisableVoice" -Force
To wrap this up, I noticed, that there is still a rumor floating around that you can use SkipMachineOOBE to bypass Windows Welcome. To put it in the simplest terms:
Stop using SkipMachineOOBE. Stop using SkipMachineOOBE. STOP USING SkipMachineOOBE!
This setting has been deprecated in Windows 8 and needs to hit the landfill. You should never ever ship a computer with the SkipMachineOOBE setting configured to true. Some Windows features may not function, as they depend on Windows Welcome values such as ProtectYourPC, which does not include a default value.