You can find the full list of scenario-driven management policies for Microsoft Edge on TechNet and in the screenshot below.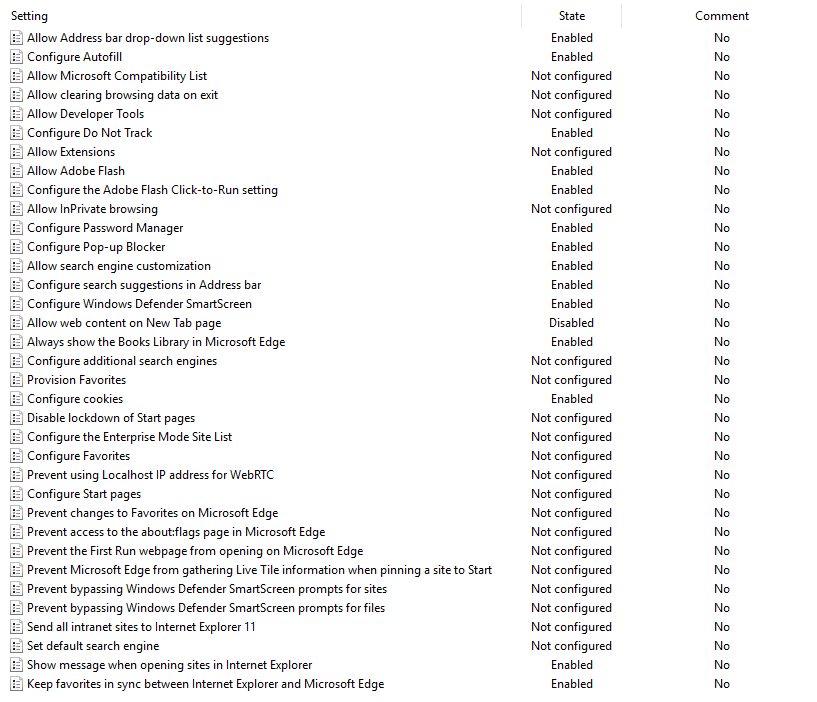 However, while Microsoft slowly adds missing policies that were requested in customer's feedback, the management story of Microsoft Edge is still sorely lacking. In Windows 10 1709 35 policies can be configured (compared to almost 1500 different GPO settings for IE11). Granted, the key fact to remember is that this is a fairly new browser and more group settings are coming. My impression is that the product team takes feedback they get from Enterprise customers very seriously and spends hundreds of hours adding additional Windows 10 browser management options, drastically improving some management scenarios. Pretty cool!
There is also the fact, that Edge has far fewer settings and most of them can be configured via the registry. Assuming you simply want a default configuration option applied to user profiles, with no lock down, you could apply Microsoft Edge configuration either via Group Policy Preferences or via a logon script - in this case, the list below is for you. It contains all registry settings (that I deemed interesting, that is) that can be applied to Microsoft Edge as of Windows 10 1709.
Note: An Excel spreadsheet, containing the description of Microsoft Edge options, registry paths, possible settings and whenever or not configuration via GPO is possible, is attached to this post.
Note: The base registry path for all registry settings listed above is HKCU\Software\Classes\Local Settings\Software\Microsoft\Windows\CurrentVersion\AppContainer\ Storage\microsoft.microsoftedge_8wekyb3d8bbwe